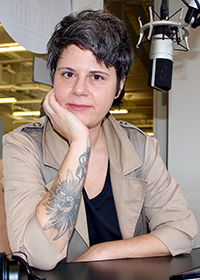 Titles and Organizations
Full Professor, Film and Video Studies, CVPA
 
Personal Websites
Biography
G Chesler (pronouns they/them) directs documentary and narrative films that address sexuality, the body, gender and racial justice. Their films have been exhibited at hundreds of film festivals, museums and galleries worldwide.
Professor Chesler's films include the feature documentary Period: The End of Menstruation that became a cultural touchstone on the changing meaning of menstruation in the mid 2000s. Though released 16 years ago, Professor Chesler's film continues to answer questions about gender through and despite the body. Their more recent films include the feature documentary Out in the Night that they Produced, which was broadcast on PBS and LOGO television, and Spirits of Rebellion: Black Cinema from UCLA that they co-edited, which won top awards at Blackstar and the African Academy Awards in Nigeria. Among Professor Chesler's award-winning short fiction films are the queer rom coms The Pick Up and BeauteouS, and melodramas Java and Bye Bi Love. You can view their films at g6pictures.com
They are a 2022, 2021, 2020 and 2019 Media Arts Fellow awarded by the Washington DC Commission on the Arts and Humanities.
Professor Chesler's scholarship focuses on sound, documentary and community engaged learning. They teach courses in fiction directing, screenwriting, and interactive storytelling. Their new essay, interviews with parents who are educators "Parenting and Professoring in the Pandemic" appeared in the March 2021 edition of Jump Cut. G. Chesler's new essay "Anti-Racist Pedagogy Requires Co-Conspirators" is forthcoming in the Journal of Cinema and Media Studies Teaching Dossier.
Professor Chesler received an MFA in Cinema from San Francisco State University and a BA in Anthropology and minor in Women's Studies from the University of Virginia. They are an Advisor to filmmakers for the ITVS / NEH 2022 Humanities Documentary Development Fellowship, and write about films about social, racial and gender justice, by and about trans, queer, feminist, and filmmakers of color at G6_Pix on Instagram.
Degrees
MFA, Cinema, San Francisco University (Most Distinguished Graduate)
BA, Anthropology, Minor Women's Studies, University of Virginia (with Highest Distinction)